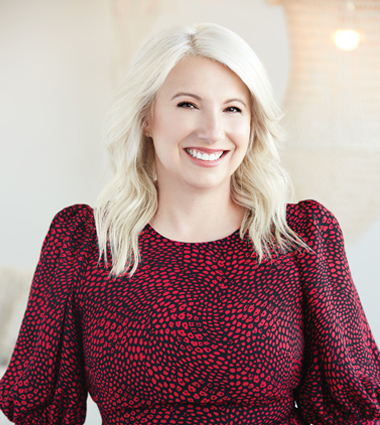 BUILDING A MULTI-MILLION DOLLAR SKINCARE BRAND
Karine Joncas, the prolific skincare creator from the beautiful city of Montreal, Canada is a visionary woman who is constantly on the lookout for the latest innovations in advanced skincare, anti-aging, and skin concerns. She has created over 35 products and is constantly adding new life-changing skincare products to her line.
Karine Joncas' love for skincare started at a very young age. Her first student job was as an independent beauty consultant within a direct sales company where she quickly moved up the ranks. It was on her next adventure, a trip to Paris, that would make her one of the most successful female entrepreneurs in the skincare industry in Canada! There, she discovered cosmetic patches. Blown away by this innovation she decided to launch her own line of KJ MEDI-COSMETICS. Over the next 20 years, she turned her 4 in 1 Anti-Aging Creams into a multi-million dollar business. That strong business sense comes from a long line of entrepreneurs in her family.
Today Karine Joncas is a speaker on Cosmetology and Female Entrepreneurship. She is a well-known celebrity in the Canadian beauty scene, best known for her multi-functional and high-performance products. She knows how to bring women to success "The KJ Way" and wants to share it with as many women as possible.
'Modern busy women, but also women searching for the most powerful ingredients to target all their skin concerns. I believe that every woman is unique and that skincare routines must be personalized to her individual needs.'
– Karine Joncas, Skincare Creator
Skincare Created for Women by a Woman
With over 20 years of success, Karine Joncas has carved out a special place in the beauty industry by offering cosmetics at the edge of medical science.
She is also making a change in women's lives by offering high performance multi-functional skincare for the modern busy woman. A true professional Medi-Spa experience at home.
Beyond her products, Karine Joncas wants to share her success with as many women as possible. She wants women to
DREAM BIG because the possibilities are endless!
She has already built a solid business but that is not where her dreams end.
She aims to build a heritage and a legacy that she will be able to pass on to future generations.
The KJ Opportunity
Want to find out how
you can become a KJ Brand Partner?
It's Easy!